My final guest in my Back2School Bentoing Blog Series is Rebecca from Bentos on the Bayou. Rebecca makes the most amazing (rice) creations in her lunches and I wanted her to share some tips with you. Rebecca will be featured on a bento TV series soon. I will add the airing info here when I get it! Please visit Rebecca's blog and follow her social media.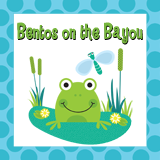 Panda Rice Tutorial
My #1 tip – It doesn't have to be complicated!
While many bentos you might come across online are very detailed and complicated (including some of mine), a simple approach can be just as fun, especially for an every day lunch. Today I am sharing a tutorial for a traditional Japanese-style bento that is simple enough for a beginner.
Any type of box or container will work, but today I chose a two-tier stainless bento box.
Step #1 – Fill the bottom of one tier with steamed or boiled white rice.
Step #2: With wet hands, form two small ball of rice. Place each rice
ball on a square or rectangular piece of nori paper large enough to wrap
around the ball.
Step #3: Wrap the nori paper around the rice ball and pinch at the
bottom. Trim any excess nori from the bottom. Keep in mind that the
bottom will not be visible, so it does not need to be perfect!
Step #4: Place the balls over the rice in each upper corner of your box.
Step #5: Fold a piece of nori paper in half and free-hand cut the black
eye area using scissors. This will give you two identical pieces.
Place those in the box, as well.
Step #6: Free-hand cut a nose using scissors. Place the nose in the box.
The six steps above should only take a few minutes, and your panda is complete! You can also add additional features (icing eyes, mouth, etc.), but I like the simplicity of it as is. Here are a few photos of some of the options I mentioned.
Step #7: Complete your bento by adding whatever fruits, vegetables, meats or cheeses you have chosen for your child's lunch. I like to begin with a layer of leaf lettuce. It is pretty, helps hold the food in place, and adds an additional layer of nutrition! In my bento, I added steamed asparagus, raw broccoli, carrot sticks, baby bell pepper rings, cherry tomatoes, fresh figs and some sliced string cheese. The second tier took about 5 minutes, including washing and cutting the produce. That's less than 10 minutes total for an adorable, Japanese inspired bento that your children will love!!
Additional tips:
1 – Wash and prep your produce one time at the beginning of the week. This step will cut several minutes out of each lunch.
2 – When making a two tier bento, allow your child to assemble the 2nd layer while you make the first.
3 – Take your child shopping and allow him/her to pick out produce items. Children love to eat things they have picked out.
4 – Use the Internet for inspiration, but don't get discouraged!! Many of the lunches you see look way more complicated than they really are!
5 – Plan your lunches a week at a time. This will insure you have the ingredients on hand.
6 – Most importantly, HAVE FUN!!
Rebecca of Bentos on the Bayou