This shop has been compensated by Collective Bias, Inc. and its advertiser.
All opinions are mine alone. #AdvilRelief #CollectiveBias
Create this Millennial First Aid Kit for a first apartment or dorm.
Have you recently moved into your own apartment? Or, are you a mom whose child has moved into a dorm room recently? Create this first aid kit for them to deal with emergencies. It is the perfect substitute when you are not around to help them out.
My 19-year-old son recently moved out into his first apartment. He has really been asserting his independence over the last six months, so I was not surprised when he said he was moving out. As a mom, I worry about if he is eating and sleeping well, if he will be able to pay expenses, and about his health and wellness. He doesn't usually return my texts, which makes me worry. I am able to see that he's safe and sound by following him on Snapchat.

When I was living in my first apartment in a different state from my family, I had a few medical situations come up that I was not prepared to deal with. No way was I going to call home and admit I needed help. I didn't want a lecture or embarrassing questions, so I dealt with things myself. I get that my son probably feels the same way. A good first aid kit with instructions would have helped me out back then, and I hope it helps my son now.
Millennial First Aid Kit
Supplies

Container with Lid
First Aid Kit Labels Printable
6 Quart-size Zippered Plastic Bags
First Aid Booklet/Instructions
Advil® Liqui-Gels® minis 160ct
Thermometer
Aspirin
Anti-Diarrhea Medicine
Antacids
Allergy Medicine
Antihistamines
Cough Drops
Cough Medicine
Chest Rub
Petroleum Jelly
Medicated Spray
Adhesive Bandages – various sizes
Plastic Gloves
First Aid Tape
Sterile Dressing – various sizes
Tweezers
Sting/Itch Relief
Wound Cream
Burn Cream
Gauze Bandages
Triangular Bandage
Elastic Bandage Wrap
Instant Cold Compress
Finger Splint
Safety Pins
First Aid Scissors
CPR Breathing Barrier
Emergency Reflective Blanket
Hover over the image below to start shopping for your Millennial First Aid Kit.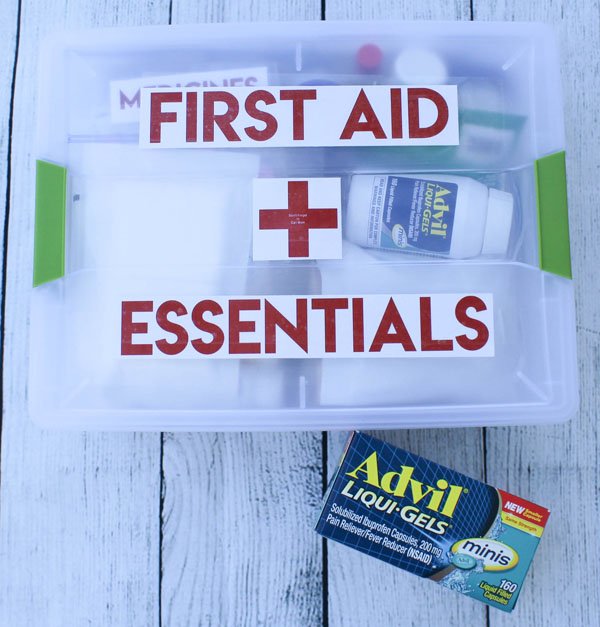 Directions
Download and print the First Aid Labels. The supply list is also included in the printable that you can take shopping.


Cut out the labels.


Apply the First Aid Kit and Essentials labels to the storage container as shown#. I used packing tape.
Apply the remaining six labels to quart size zippered plastic bags.


Place items in each bag as follows:
Medicines: Aspirin, Anti-Diarrhea Medicine, Antacids, Allergy Medicine, Cough Drops, Cough Medicine
Cuts & Scrapes: Medicated Spray, Various Adhesive Bandages, Plastic Gloves
Stings Bites & Blisters: First Aid Tape, Two Sterile Dressings, Tweezers, Sting/Itch Relief
Wounds & Burns: Various Sterile Dressings, Wound Cream, Burn Cream, Gause Bandages, Plastic Gloves
Strains & Sprains: Triangular Bandage, Elastic Bandage Wrap, Instant Cold Compress, Finger Splint, Safety Pins, First Aid Scissors
CPR & Shock: CPR Breathing Barrier, Emergency Reflective Blanket
Place the remaining items, including the First Aid Booklet or Instructions in the kit. Drop it off at your child's dorm or apartment, or ship it if they are far away.

#On my First Aid Kit Labels Printable, I included two first aid symbols. One says Don't Forget to Call Mom and the other is blank. I included the first one on my son's kit because he really needs that reminder.

Since the primary issues that my son will deal with are headaches, muscle aches, and joint pain, I added Advil® Liqui-Gels® minis 160ct to his first aid kit. Fast Relief is Now Mini! This 33% smaller pill is easier to swallow but has the same strength. Nothing's faster than Advil on tough pain*. *Among OTC pain relievers Advil® Liqui-Gels® minis 160ct can be purchased in the pain reliever aisle at Target. You can find this product on Target.com as well.

My son should be all set to deal with any sickness or injury with this first aid kit. What do you think Millennials need to have on hand after they move out?
Use as directed. ® 2017 Pfizer Inc. LIQUI-GELS® is a trademark or registered trademark of Catalent Pharma Solutions.